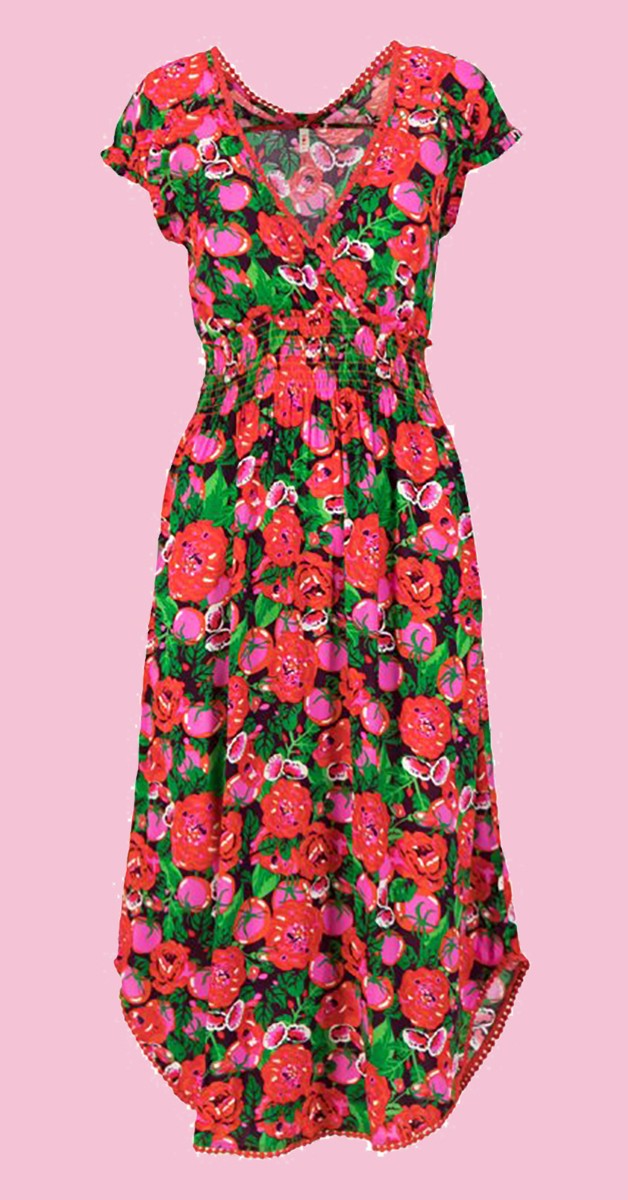 Retro Style Fashion - Summer dress sunflowers field - Hot House
119,95 €
Price including VAT
Plus shipping cost
Shipping Time: 2 - 3 days
Retro Style Fashion - Summer dress sunflowers field - Hot House
Hauptstoff: Viskose (LENZING™ ECOVERO™) 100%
Länge: wadenlang
V-Ausschnitt in Wickeloptik
gemütlicher Smokbund auf Taillenhöhe
leicht überschnittene Schultern
kleine Rüschen an Ärmeln und Taille
farblich harmonierende PomPom-Bodüre
Rockpart mit gebogenem Säumen
Hinreißendes Midi-Kleid aus sommerlich-leichter und sanft fließender LENZING™ ECOVERO™-Viskose! Weiblichkeit in Wohlfühlmanier und ein bezaubernder Detailreichtum lassen diese textile Schönheit ganz besonders unwiderstehlich strahlen.
Leicht überschnittene Schultern, kurze Ärmel mit verspielten Rüschen und ein femininer V-Ausschnitt in Wickeloptik modellieren den oberen Part des Kleides. Der elastische und ebenfalls mit Rüschen garnierte Smokbund garantiert Gemütlichkeit, zugleich verleiht er dem Schnitt eine goldene Mitte mit schmaler Taille. Allerhübschestes Highlight: Dekolleté und Rocksaum wurden mit einer farblich harmonierenden Bommelborte veredelt; das entzückende Detail versprüht leichten Boho-Charme und perfektioniert den stoffgewordenen Traum mit Bravour!
So bleibt dein Teil schön:
Mit ähnlichen Farben waschen, von links waschen und bügeln und nach der Wäsche bügeln
8 XS - 34, 10 S - 36, 12 M - 38, 14 L - 40, 16 XL - 42
Across Austria, Germany, Netherlands! Hungary, France, Denmark, Czech, GB, Italy, Belgium, Luxembourg: orders over 100 EUR. Other EU-countries over 200 EUR.
We want to make shopping with us as easy and enjoyable as possible for our loyal customers, and so from now on, you'll be able to return your goods free of charge in the following countries: Austria, Germany and Netherlands!
Where we are providing you with replacement goods or an Inked Fashion voucher code in exchange for your returned goods, you will from now on be able to return products to us without incurring any additional costs. Where a refund is preferred, postage costs will continue to be borne by the customer.
Please note: whatever the case, please email us at info@inkedfashion.com, so that we can send you the DPD returned goods sticker – unfortunately we will not be able to do this at a later date.